Category Archives:
Events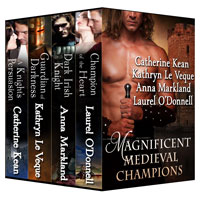 A great new collection of 4 medieval romance novels is now available on Amazon.
Magnificent Medieval Champions!
This four book set features medieval romance novels from Catherine Kean, Kathryn Le Veque, Anna Markland, and Laurel O'Donnell.
And it's only $0.99 cents for a limited time!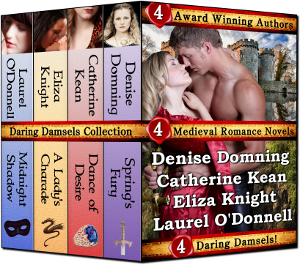 For this week's Medieval Romance Monday feature we are showcasing the Daring Damsels Collection – a medieval romance novel boxed set.
This boxed set of medieval romance novels contains four full length medieval romance novels written by four award winning medieval romance novelists.  This collection contains Spring's Fury by Denise Domning, Dance of Desire by Catherine Kean, A Lady's Charade by Eliza Knight and Midnight Shadow by Laurel O'Donnell.
You can get the Daring Damsels Collection on Amazon for a limited time for only $0.99 cents!