Tag Archives:
kathryn le veque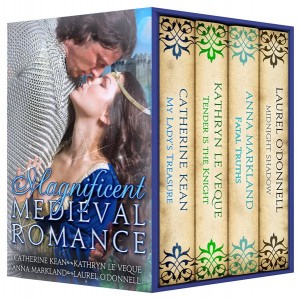 The Medieval Mavens are back with an amazing new collection of medieval romance novels in the Magnificent Medieval Romance Collection! Get it on Amazon now.
This great set includes:
FATAL TRUTHS – ANNA MARKLAND
HE is a powerful Norman nobleman haunted by memories of a troubled past who has sworn never to marry. SHE is a Scottish noblewoman masquerading as nursemaid to her own children. Only lies can keep them alive.
MY LADY'S TREASURE – CATHERINE KEAN
SHE is a lady desperate to save a kidnapped child. HE is a tortured knight seeking redemption. Forming an uneasy alliance, they search for legendary riches and find a treasure worth more than gold.
TENDER IS THE KNIGHT – KATHRYN LE VEQUE
HE is a powerful knight who assumes the mantel of command when his father dies in battle. SHE is the enemy's daughter, offspring of the man who killed his father. Can their love overcome old hatreds and betrayal from within?
MIDNIGHT SHADOW – LAUREL O'DONNELL
A LADY dons a mask and cloak to right the wrongs and save her people from oppression. A LORD, torn between the woman he longs to trust and the outlaw he has vowed to hang vows to find the truth. Will a legendary hero find love in the arms of her enemy?
Magnificent Medieval Champions hits #1 on Amazon in Best Sellers in Medieval Historical Romance! And it's still only $0.99 cents!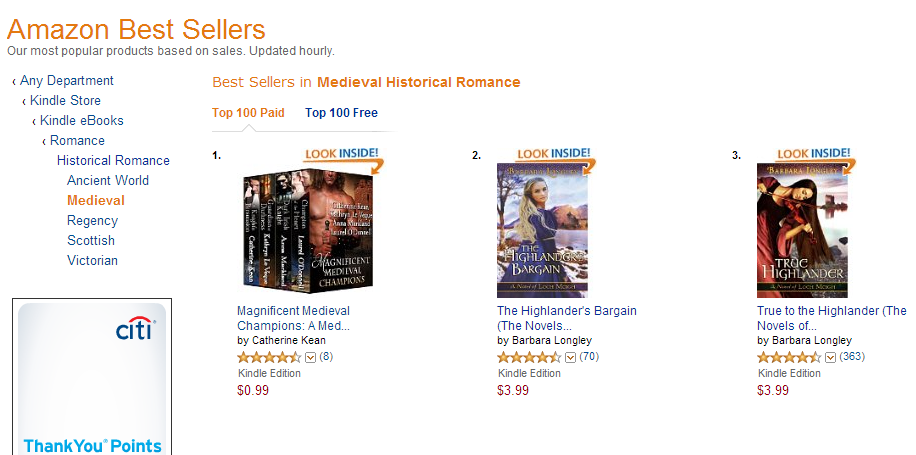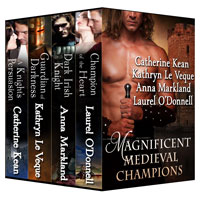 A great new collection of 4 medieval romance novels is now available on Amazon.
Magnificent Medieval Champions!
This four book set features medieval romance novels from Catherine Kean, Kathryn Le Veque, Anna Markland, and Laurel O'Donnell.
And it's only $0.99 cents for a limited time!