Tag Archives:
medieval romance boxed sets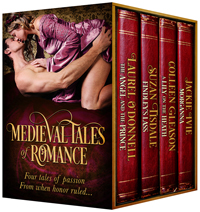 For this week's Medieval Romance Monday we are featuring another fantastic medieval romance boxed set – Medieval Tales of Romance. This great value set containing four full length medieval romance novels is only $0.99 cents on Amazon!
Four tales of medieval romance from four best selling historical romance authors. Four tales of passion from when honor ruled. Enjoy the great value of this boxed set while it lasts!
MEDIEVAL TALES OF ROMANCE contains these four medieval romance novels:
A LILY ON THE HEATH by COLLEEN GLEASON
When Malcolm du Monde, Lord of Warwick, reluctantly comes to court to find a biddable bride, he expects to woo her, wed and bed her, and be back home in a month. But when he crosses paths with his childhood friend, the fiery-haired (and tempered) Lady Judith, who is now a favorite of the Queen and quite popular at court, Malcolm's plans go awry.
And when Judith finds herself caught in a dangerous battle between the king and the Queen, she has no one to turn to but Malcolm.
MORGANNA by JACKIE IVIE
HE is the handsome, brawny, charming youngest son of a Sassenach-loving Highland clan. SHE is a woman in hiding as a young man – a weapons champion, bent on vengeance against the Fitzhugh. The only thing worse than being forced to squire for a member of the hated Fitzhugh…is falling in love with him.
THE ANGEL AND THE PRINCE by LAUREL O'DONNELL
In this exciting medieval romance, the French lady knight known as the Angel of Death wages a battle of wills and desires against her dreaded enemy — the English warrior known as the Prince of Darkness.
FINDLEY'S LASS by SUZAN TISDALE
She'd won Findley's McKenna's heart without trying and he can only pray for a chance to win hers. But how can Maggy put her trust in a man she barely knows. A madman kidnaps one of her sons and together, Findley and Maggy will stop at nothing to bring the boy home.
ABOUT THE AUTHORS
About COLLEEN GLEASON — Colleen Gleason is an award-winning, New York Times and USA Today bestselling author who writes in a number of genres. She is most well-known for her Gardella Vampire Hunters series and her Stoker & Holmes series for teens. She lives in the Midwest United States and is always working on her next book.
About JACKIE IVIE — Jackie Ivie is an Internationally Bestselling author of several historical romances through Kensington Publishing, as well as the Brocade Collection and her paranormal series – Vampire Assassin League. Her books have won or been finalists in numerous contests starting with Morganna's seven awards. She loves to hear from fans at her websites www.jackieivie.com and www.VampireAssassinLeague.com.
About LAUREL O'DONNELL — Laurel O'Donnell is a best selling author and has won numerous awards for her medieval romances, including the International Digital Award and the Holt Medallion Award. Her medieval romances have hit #1 Best Seller status in Amazon's Medieval Romance category several times. You can visit her website at laurel-odonnell.com to stay up to date on future releases.
About SUZAN TISDALE — Author. Storyteller. Cheeky Wench.
Get Medieval Tales of Romance on Amazon now!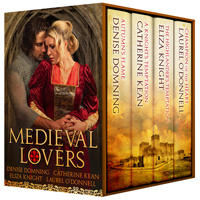 For this week's Medieval Romance Monday we are featuring Medieval Lovers – another great boxed set of four medieval romance novels from those four Daring Damsels, Denise Domning, Catherine Kean, Eliza Knight, and Laurel O'Donnell.
Here are the four medieval romance novels included in this great bargain:
CHAMPION OF THE HEART by LAUREL O'DONNELL: He is an outcast THIEF known as the Black Fox, vowing revenge against those who unjustly stripped his father of his knighthood and lands. She is the PROTECTOR of the orphaned children of her village, promising to bring the Black Fox to justice for his dark deeds. Can Fox uncover the sinister secrets from their past and become the champion of his lady's heart?
A KNIGHT'S TEMPTATION by CATHERINE KEAN: A LADY arranges a clandestine meeting to return a stolen pendant. A LORD, determined to attain knighthood, senses the lady keeps valuable secrets and takes her captive. Will their past enmity stand in the way of duty and true love?
THE HIGHLANDER'S TEMPTATION by ELIZA KNIGHT: Laird Jamie Montgomery is a warrior sent to the Highlands on the orders of William Wallace. Temptation in the form of an alluring lass, could be his undoing. Lady Lorna Sutherland can't resist Jamie's charms. Though she's been forbidden, she breaks every rule for the pleasure of his intoxicating embrace.
AUTUMN'S FLAME by DENISE DOMNING: A HEADSTRONG WOMAN, A SCARRED AND SECRETIVE MAN TIED TO EACH OTHER BY HER UNBORN CHILD
The newly widowed Elyssa of Freyne vows that no man will ever again control her life…that is, as long as no man discovers she's pregnant. Geoffrey FitzHenry curses the law that requires him to take the pregnant widow into his custody. Almost from the moment Elyssa arrives, the coppery-haired firebrand begins challenging the pretense the protects his daughter's life.
Get Medieval Lovers on Amazon now!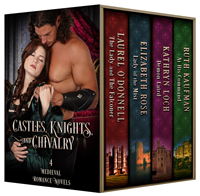 For this week's Medieval Romance Monday we are featuring Castles, Knights, and Chivalry. You can pre-order this great collection of 4 Medieval Romance Novels now for only $0.99 cents on Amazon. If you are in Kindle Unlimited, this great collection will also be available for you. Look for it on August 1, 2015!
CASTLES, KNIGHTS, AND CHIVALRY contains these four medieval romance novels –
THE LADY AND THE FALCONER by LAUREL O'DONNELL  – He is a MYSTERIOUS FALCONER, intent on reclaiming what is rightfully his. She is the LADY of Castle Fulton, determined to keep her people safe from the siege that threatens them all. Can they overcome betrayal and vengeance to find healing love?
LADY OF THE MIST by ELIZABETH ROSE – Garrett is a Baron of the Cinque Ports, loyal to the crown in keeping the channel safe. Echo is the daughter of an infamous pirate, taking a nobleman prisoner. Love and honor clash as two people from opposite ends of life face the most difficult challenge of all.
DEMON LAIRD by KATHRYN LOCH – Tortured by the English, Ronan MacGrigor escapes only to face the fear and terror of his own clan. His hope lost, he teeters on the precipice; darkness or redemption. Yet a woman from an enemy nation, a Sassenach healer, refuses to run. Before Lia stands not the Demon Laird, only a young man in desperate need of healing.
They say he made a deal with the devil . . . now the devil demands his due.
AT HIS COMMAND by RUTH KAUFMAN – What's a lady to do when the king commands her to marry a lord, but she's falling for the knight sent to protect her from undesirable suitors and is a scribe for the king's rival for the throne?
ABOUT THE AUTHORS
LAUREL O'DONNELL is a best selling, award-winning author who finds time every day to bring her characters to life.
ELIZABETH ROSE is a best selling author of over 40 books, writing medieval, paranormal, contemporary and western romance.
KATHRYN LOCH, the author of multiple best selling novels such as Mist Warrior and Shadowed Hawk, is honored to join forces with esteemed authors Laurel O'Donnell, Elizabeth Rose, and Ruth Kaufman, with the medieval Scottish Highlander and best selling title to date, the highly acclaimed Demon Laird.
RUTH KAUFMAN is the award-winning author of the Wars of the Roses Brides series. Ruth is also an on-camera and voiceover talent, freelance editor and speaker.