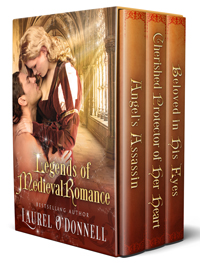 For this week's Medieval Romance Monday, we are featuring Legends of Medieval Romance: The Complete Angel's Assassin Trilogy by Laurel O'Donnell.
Immerse yourself in a world of adventure, intrigue and romance! Critically acclaimed, bestselling author Laurel O'Donnell brings you the complete Angel's Assassin collection! This amazing set features these stories –
ANGEL'S ASSASSIN –
Multi-award-winning novel!
Damien is an assassin, a man with a tortured past. Sold into slavery, he is trained to kill. Lady Aurora of Acquitaine is the epitome of purity and goodness. When Damien enters Aurora's life, tempting her with promises of forbidden lust, he threatens to tear her peaceful world apart.
CHERISHED PROTECTOR OF HER HEART –
The honored LADY of Acquitaine prepares for her upcoming marriage. Her BETROTHED battles the unwanted visitors that have come for more than just celebration. Will his past catch up to him and ruin all he has fought so hard to protect?
BELOVED IN HIS EYES –
As captain of the guard, GAWYN serves his brother, Lord Damien, faithfully and loyally; there is nothing he would not do for him. JUSTINA AUBER must protect her younger brother from the assassin who murdered her father. Will Gawyn betray his brother to save the woman he is falling in love with?
Get Legends of Medieval Romance on Amazon today!