Tag Archives:
medieval romance boxed set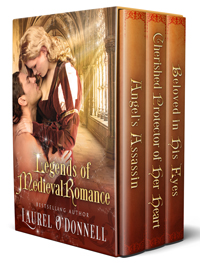 For this week's Medieval Romance Monday, we are featuring Legends of Medieval Romance: The Complete Angel's Assassin Trilogy by Laurel O'Donnell.
Immerse yourself in a world of adventure, intrigue and romance! Critically acclaimed, bestselling author Laurel O'Donnell brings you the complete Angel's Assassin collection! This amazing set features these stories –
ANGEL'S ASSASSIN –
Multi-award-winning novel!
Damien is an assassin, a man with a tortured past. Sold into slavery, he is trained to kill. Lady Aurora of Acquitaine is the epitome of purity and goodness. When Damien enters Aurora's life, tempting her with promises of forbidden lust, he threatens to tear her peaceful world apart.
CHERISHED PROTECTOR OF HER HEART –
The honored LADY of Acquitaine prepares for her upcoming marriage. Her BETROTHED battles the unwanted visitors that have come for more than just celebration. Will his past catch up to him and ruin all he has fought so hard to protect?
BELOVED IN HIS EYES –
As captain of the guard, GAWYN serves his brother, Lord Damien, faithfully and loyally; there is nothing he would not do for him. JUSTINA AUBER must protect her younger brother from the assassin who murdered her father. Will Gawyn betray his brother to save the woman he is falling in love with?
Get Legends of Medieval Romance on Amazon today!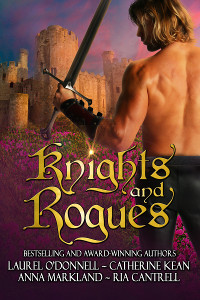 Please note this Boxed Set is no longer available.
For this week's Medieval Romance Monday we are featuring the medieval romance box set Knights and Rogues. This great set of four medieval romance novels is only $0.99 cents and it's also available in Kindle Unlimited!
You can get Knights and Rogues on Amazon here.
Four bestselling and award-winning authors have come together to give you one amazing historical set! This set includes –
THE ANGEL AND THE PRINCE by Laurel O'Donnell –
In this exciting medieval romance, the French lady knight known as the Angel of Death wages a battle of wills and desires against her dreaded enemy — the English warrior known as the Prince of Darkness.
MY LADY'S TREASURE by Catherine Kean –
Lady Faye Rivellaux is desperate to save a kidnapped child. Former crusading knight Brant Meslarches seeks redemption from his past. Forming an uneasy alliance, they search for lost riches of the legendary Celtic King Arthur and find a treasure worth more than gold.
HAUNTED KNIGHTS by Anna Markland –
Set against the backdrop of the magnificent Arundel Castle, and the eerie ancient monoliths of Carnac in Brittany, Haunted Knights is the tale of The Giant and the Dwarf, Adam and Denis, brothers haunted by secrets, and challenged by physical limitations.
CELTIC SPIRIT by Ria Cantrell –
Can a man be redeemed of his ills of the past? Highland mercenary, Derek Campbell, did not know the answer to that. As certain death was about to befall him, he was granted a chance of redemption but it would come with a price. Derek would be plunged into a world between the living and the dead, where isolation was his only companion. Love would be the key to save his soul from the endless years spent not quite a man; not quite a ghost. Only when the beautiful Kiera Callum came to Castle Campbell to take the job as a tour guide did Derek find hope. It seemed Kiera ran from many things in her life when the going got tougher, including her ability to sense the spirits of those who had gone before. She had denied that gift her entire life because it marked her as a freak. In order to help the trapped soul of a medieval man whose presence was the most vital thing she had ever encountered, Kiera had to stop running.
Here at Castle Campbell, the past and present collide. Love can bridge time and space. Love is eternal.
About the Authors –
LAUREL O'DONNELL is a bestselling, award-winning author who finds time every day to bring her characters to life. Visit her at www.laurel-odonnell.com
CATHERINE KEAN is a bestselling, Kindle Unlimited All-Star author of medieval romances. Her books have won numerous awards, including the Gayle Wilson Award of Excellence. Her novels also finaled in the Next Generation Indie Book Awards and the National Readers' Choice Awards.
ANNA MARKLAND writes medieval tales full of betrayal, danger, conspiracy and adventure. But there's love and passion too. After all, medieval is where romance began.
RIA CANTRELL grew up in the suburbs of Long Island. With a love for history, Ria found herself drawn to participate with re-enactment groups that re-created the Middle Ages. Since fostering her love of all things medieval, Ria's stories soon became flavored with Medieval , Scottish Highlander, Celtic and Renaissance themes. Ria now lives in Southwest Florida with her English rock-star husband.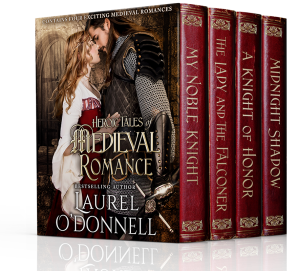 For this week's Medieval Romance Monday we are featuring the boxed set collection of 4 full-length medieval romance novels written by Amazon Best Selling Romance Author Laurel O'Donnell.
Heroic Tales of Medieval Romance is available on Amazon now!
Heroic Tales of Medieval Romance contains these four medieval romance novels:
My Noble Knight
Layne Fletcher, the only girl in a family of three boys, has grown up learning to use a sword and joust, but she is not a knight. She and her brothers have been traveling from tourney to tourney to make enough coin to buy their own farm to shelter their ailing father. When her brother is found unconscious before an important tournament, Layne takes his place on the jousting field against…
Griffin Wolfe, the undefeated jousting champion. When he is unhorsed by a slip of a woman who is not a knight, he demands retribution. His honor will not allow him to let a woman be thrown in the dungeon and he has no choice but to pay her fine, ordering her to travel with him until her brothers can repay him. Griffin attempts to educate Layne in the art of being a woman, but finds he is attracted to her exciting personality and uncommon beauty despite her less than lady like ways.
But someone is trying to sabotage Griffin as he competes in the tournaments. Can Layne and Griffin discover who the culprit is while keeping their families safe and their growing attraction secret?
---
Midnight Shadow
Lady Bria Delaney
Raised on the adventurous stories of the Midnight Shadow, Bria Delaney longs to wield a sword and fight against tyranny. When the unjust rules of a neighboring lord terrorize her friends, she dons the mask and cloak of her childhood hero to right the wrongs and save them from oppression. After encountering Lord Knowles, she is stunned to find her fierce attraction to the very enemy she has secretly promised to destroy.
Lord Terran Knowles
Accustomed to victory at tournament, Terran Knowles lives a life of luxury and ease. When he returns home and finds his coin has dwindled, he must turn to an old betrothal and its dowry to keep his coffers full. Adding to his financial woes, a thief known as the Midnight Shadow strikes his land at night, stealing his coin. His intended betrothed is a headstrong, beautiful woman who immediately intrigues him. Torn between the woman he longs to trust and the outlaw he has vowed to hang, Terran vows to find the truth.
---
The Lady and the Falconer
Lady Solace Farindale
With her father at war and her stepmother ruling the castle with disinterest, Solace protects her people the best she can. When a neighboring lord lays siege to the castle, a threat on the lady's life is discovered. She turns to a man she can't resist, and puts her trust in a stranger who has captured her heart. Will she discover the secret this man holds before it is too late?
Logan Grey
Tormented by guilt and a tragic past, Logan Grey has gained access to the castle disguised as a falconer. With only revenge on his mind, he has no time for the feisty beauty who has caught his eye. In a twist of fate, and a deadly betrayal, Logan must risk his life for the lady who ignited a passion more perilous than war.
---
A Knight of Honor
Taylor Sullivan is a raven-haired hellion fleeing the tragic flames that destroyed her family. She arms herself with a quick sword and a sharp tongue, hiring herself out as a mercenary, willing to do whatever it takes to survive.
Slane Donovan is a knight of honor, sworn to uphold his oath and his word. He seeks the woman who wears the Sullivan ring, determined to bring her back to Castle Donovan to fulfill a promise made to his brother.
When he finds the fierce young beauty, her sensual innocence inflames his heart, threatening to destroy the very essence of who he is and the vows he has sworn to uphold.