Tag Archives:
catherine kean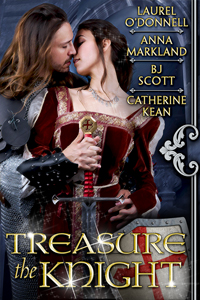 For this week's Medieval Romance Monday, we are featuring the Treasure the Knight box set. Available on Amazon now!
Immerse yourself in the romance and mystery of the Knights Templar and their lost treasure. Each piece of treasure given to a Templar knight to protect. Each treasure in danger of falling into the wrong hands!
This fabulous set includes four new, never before published medieval romance novellas written by bestselling authors –
A Knight's Protection by LAUREL O'DONNELL –
A healer and outcast, Lia discovers a dying Templar knight who entrusts her with an important treasure and elicits her promise to protect it. Kade de Claremont returns home upon news of his mother's death only to find his father is searching for a mythical treasure. Lia and Kade must join together to keep the treasure from his father, but secrets and trust come between them to sabotage their growing attraction.
Her Gallant Knight by CATHERINE KEAN –
A humiliating childhood incident made Lady Amelia Bainbridge vow to avoid Lord Ryder Stanbury. Yet, years later, Ryder comes to her rescue. Shocked to recognize her ring, he realizes she's connected somehow to the Templar treasure he and fellow knights brought back to England—riches that not only bring him and Amelia a second chance at love but deadly secrets.
Highland Covenant by BJ SCOTT –
Entrusted with a piece of the famed Templar treasure, Francois de Valier is determined to see it safely to Roslyn Castle. The quest takes him into the heart of the Scottish Highlands where a reunion takes place with a friend from his past, along with a shocking turn of events that could cost him everything, including his life.
Knightly Dreams by ANNA MARKLAND –
Peter Bateson is an accomplished graduate student whose doctoral thesis proves conclusively that the Templar treasure no longer exists. (Sorry Dan Brown). His well-researched theories and his comfortable lifestyle are challenged when he meets Susie, a university drop out who insists the treasure still exists because the Templar Knight who visits her dreams told her so.
You can get Treasure the Knight on Amazon now!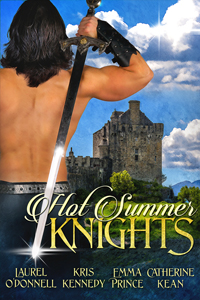 Please note this Box set is no longer available.
For this week's Medieval Romance Monday we are featuring the Hot Summer Knights box set! Available now on Amazon for only $0.99 cents, or free to read as part of Kindle Unlimited!
This set features never before published and award-winning BONUS MATERIAL plus these four amazing medieval stories by USA Today and award-winning authors!
CHAMPION OF THE HEART by Laurel O'Donnell –
He is an outcast THIEF known as the Black Fox, vowing revenge against those who unjustly stripped his father of his knighthood and lands. She is the PROTECTOR of the orphaned children of her village, promising to bring the Black Fox to justice for his dark deeds. Can Fox uncover the sinister secrets from their past and become the champion of his lady's heart?
DEFIANT by Kris Kennedy –
Jamie Lost is King John's most renowned lieutenant, an audacious knight sent to kidnap a rebel troublemaker before enemy forces close in. The mission is simple–until he comes up against a beautiful woman who first threatens his mission, then his cold, black heart. Epic road romance by USA Today bestselling author Kris Kennedy featuring a brooding knight with a shattered heart & the beautiful waif who thwarts him, charms him…and believes he's worth saving.
DANCE OF DESIRE by Catherine Kean –
Disguised as a veiled courtesan, Lady Rexana Villeaux dances for the High Sheriff of Warringham–and he is tempted. Becoming Fane's wife may be the only way to save her brother; yet as she learns her husband's secrets, she finds it harder and harder not to fall in love.
HIGHLANDER'S RETURN by Emma Prince –
Burke Sinclair and Meredith Sutherland wanted nothing more than to wed, but ancient clan hostilities force Meredith into an unwanted marriage. Ten long, lonely years later, the two may get a second chance at first love—if old blood feuds don't rip them apart once and for all.
ABOUT THE AUTHORS
LAUREL O'DONNELL is a bestselling, award-winning author who finds time every day to bring her characters to life. Visit her at www.laurel-odonnell.com
USA Today bestselling & award-winning author KRIS KENNEDY writes sexy, adventure-laden historical romances set in England and Ireland, during the age when chivalry and knights reigned supreme. Her latest series is RENEGADE LORDS: The heroes are hard, the heroines clever, and the passion burns.
CATHERINE KEAN is a bestselling, award-winning, Kindle Unlimited All Star author of medieval romances.
EMMA PRINCE is a bestselling author of steamy, emotional, and action-packed medieval Scottish and Viking romances.
Hot Summer Knights is available now on Amazon for only $0.99 cents, or free to read as part of Kindle Unlimited!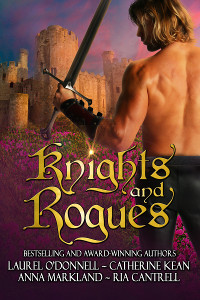 Please note this Boxed Set is no longer available.
For this week's Medieval Romance Monday we are featuring the medieval romance box set Knights and Rogues. This great set of four medieval romance novels is only $0.99 cents and it's also available in Kindle Unlimited!
You can get Knights and Rogues on Amazon here.
Four bestselling and award-winning authors have come together to give you one amazing historical set! This set includes –
THE ANGEL AND THE PRINCE by Laurel O'Donnell –
In this exciting medieval romance, the French lady knight known as the Angel of Death wages a battle of wills and desires against her dreaded enemy — the English warrior known as the Prince of Darkness.
MY LADY'S TREASURE by Catherine Kean –
Lady Faye Rivellaux is desperate to save a kidnapped child. Former crusading knight Brant Meslarches seeks redemption from his past. Forming an uneasy alliance, they search for lost riches of the legendary Celtic King Arthur and find a treasure worth more than gold.
HAUNTED KNIGHTS by Anna Markland –
Set against the backdrop of the magnificent Arundel Castle, and the eerie ancient monoliths of Carnac in Brittany, Haunted Knights is the tale of The Giant and the Dwarf, Adam and Denis, brothers haunted by secrets, and challenged by physical limitations.
CELTIC SPIRIT by Ria Cantrell –
Can a man be redeemed of his ills of the past? Highland mercenary, Derek Campbell, did not know the answer to that. As certain death was about to befall him, he was granted a chance of redemption but it would come with a price. Derek would be plunged into a world between the living and the dead, where isolation was his only companion. Love would be the key to save his soul from the endless years spent not quite a man; not quite a ghost. Only when the beautiful Kiera Callum came to Castle Campbell to take the job as a tour guide did Derek find hope. It seemed Kiera ran from many things in her life when the going got tougher, including her ability to sense the spirits of those who had gone before. She had denied that gift her entire life because it marked her as a freak. In order to help the trapped soul of a medieval man whose presence was the most vital thing she had ever encountered, Kiera had to stop running.
Here at Castle Campbell, the past and present collide. Love can bridge time and space. Love is eternal.
About the Authors –
LAUREL O'DONNELL is a bestselling, award-winning author who finds time every day to bring her characters to life. Visit her at www.laurel-odonnell.com
CATHERINE KEAN is a bestselling, Kindle Unlimited All-Star author of medieval romances. Her books have won numerous awards, including the Gayle Wilson Award of Excellence. Her novels also finaled in the Next Generation Indie Book Awards and the National Readers' Choice Awards.
ANNA MARKLAND writes medieval tales full of betrayal, danger, conspiracy and adventure. But there's love and passion too. After all, medieval is where romance began.
RIA CANTRELL grew up in the suburbs of Long Island. With a love for history, Ria found herself drawn to participate with re-enactment groups that re-created the Middle Ages. Since fostering her love of all things medieval, Ria's stories soon became flavored with Medieval , Scottish Highlander, Celtic and Renaissance themes. Ria now lives in Southwest Florida with her English rock-star husband.