Tag Archives:
medieval romance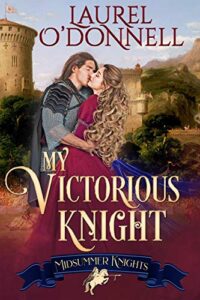 For this week's Medieval Romance Monday, we are featuring My Victorious Knight by Laurel O'Donnell.  My Victorious Knight is Book 5 in the exciting new Midsummer Knights Romance series!  My Victorious Knight is also Book 2 in Laurel O'Donnell's My Knight series.
Order My Victorious Knight on Amazon now (releasing June 9)
A Midsummer Knights Romance: A Tournament World of Chivalry, Intrigue, and Passion. One Thrilling Tournament with Seven Connected Love Stories!!

My Victorious Knight by Laurel O'Donnell
She desired only one kiss, but what she received was so much more!
Having grown up under his father's constant ridicule, Sir Julian of Helmsley is determined to be the best knight in the land. When he finally saves enough coin to enter a grand tournament and face the undefeated champion, he is confident he will win and prove to all, including his father, he is not worthless.
Lady Elora of Kingston knows her place, her duty. She is destined to marry a man she hardly knows and certainly does not love. Before she weds, Elora wants to experience real passion. Just one kiss. One magical kiss. What she doesn't realize is that one kiss will change her life forever.
When Julian meets Lady Elora, the sister of the undefeated champion, he becomes embroiled in two battles, one for his personal glory and one for his heart, with the outcomes of both very much in peril.
Get the other books in the Midsummer Knights Series!

Summer, 1193. England is in turmoil, and a great tournament is scheduled near the border of Scotland and England. The greatest knights and lords from England, Scotland, Ireland, and France have gathered to compete for a great prize. There will be celebrations and jousts and feasting. It will an exhibition of chivalry and warrior skills, a breeding ground for treason…and for love.
The books in the Midsummer Knights series:
Forbidden Warrior by Kris Kennedy — April 14
The Highlander's Lady Knight by Madeline Martin — April 28
The Highlander's Dare by Eliza Knight — May 12
The Highland Knight's Revenge by Lori Ann Bailey — May 26
My Victorious Knight by Laurel O'Donnell — June 9
An Outlaw's Honor by Terri Brisbin — June 23
Never If Not Now by Madeline Hunter — July 7
One Thrilling Tournament, Seven Unique Tales of Love! Read them all!!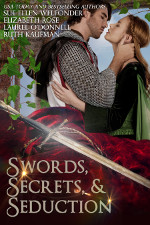 For this week's Medieval Romance Monday we are featuring Swords, Secrets, & Seduction – a collection of 4 medieval romance novels. This set is available on Amazon now for only $0.99 cents!
From USA Today and Bestselling authors that you love! This set includes these four full-length novels –
THE TAMING OF MAIRI MACKENZIE by Sue-Ellen Welfonder
The fate of a battle-weary warrior depends on a mysterious woman, but when they join forces, the passion that consumes them poses a greater threat: a forbidden love so powerful it could destroy them.
LORD OF ILLUSION by Elizabeth Rose –
A lady on the run is looking to escape her betrothed, and a thief is looking to escape his life. Passion and love blooms between two people who shouldn't be together, when they find each other's life more intriguing than their own.
CHAMPION OF THE HEART by Laurel O'Donnell –
He is an outcast THIEF known as the Black Fox, vowing revenge against those who unjustly stripped his father of his knighthood and lands. She is the PROTECTOR of the orphaned children of her village, promising to bring the Black Fox to justice for his dark deeds. Can Fox uncover the sinister secrets from their past and become the champion of his lady's heart?
FOLLOW YOUR HEART by Ruth Kaufman –
Joanna Peyntor sees the world through the jewel-like windows she creates, with her only goal to save her glass-painting workshop from ruin. Sir Adrian Bedford will do anything to restore his family name and estate. When irresistible passion makes their marriage of convenience inconvenient, will his dangerous secrets keep them from following their hearts?
ABOUT THE AUTHORS –
USA Today bestselling author SUE-ELLEN WELFONDER loves Scotland, medieval history, Celtic legend and lore, the paranormal, and animals. She also writes as Allie Mackay and lives on Florida's southwest coast with her husband and her muse, Snuggles the writer cat.
ELIZABETH ROSE is the author of over 55 books, an amazon all-star, and in the top 100 of amazon's most popular, bestselling authors. Visit her website at http://elizabethrosenovels.com.
LAUREL O'DONNELL has won numerous awards for her works, including the Holt Medallion for A Knight of Honor and the Happily Ever After contest for Angel's Assassin. She finds precious time every day to escape into the medieval world and bring her characters to life in her writing. Visit Laurel's website at www.laurel-odonnell.com
RUTH KAUFMAN is a Chicago author, on-camera and voiceover talent and speaker who enjoys chocolate peanut butter milkshakes and singing in a symphony chorus. Accolades include 2016 Bookseller's Best Award Best Historical and Best First Book winner and RWA® Golden Heart® winner.

For this week's Medieval Romance Monday we are featuring My Noble Knight by award winning medieval romance author Laurel O'Donnell.
Layne Fletcher, the only girl in a family of three boys, has grown up learning to use a sword and joust, but she is not a knight. She and her brothers have been traveling from tourney to tourney to make enough coin to buy their own farm to shelter their ailing father. When her brother is found unconscious before an important tournament, Layne takes his place on the jousting field against…
Griffin Wolfe, the undefeated jousting champion. When he is unhorsed by a slip of a woman who is not a knight, he demands retribution. His honor will not allow him to let a woman be thrown in the dungeon and he has no choice but to pay her fine, ordering her to travel with him until her brothers can repay him. Griffin attempts to educate Layne in the art of being a woman, but finds he is attracted to her exciting personality and uncommon beauty despite her less than lady like ways.
But someone is trying to sabotage Griffin as he competes in the tournaments. Can Layne and Griffin discover who the culprit is while keeping their families safe and their growing attraction secret?