Category Archives:
Medieval Romances
First, a mighty HUZZAH! to you and thanks for stopping by. If you enjoy medieval romance books, tales of knights and castles, stories filled with honor and chivalry, thrilling jousts and swordplay, and, of course, passionate romance and undeniable love, then you have certainly journeyed to the right destination.
We have an exciting new feature called Medieval Romance Monday. On every 1st and 3rd Monday of the month, we will be featuring a different medieval romance novel.  We have several great medieval romance books already lined up, and more on the way, so please plan on giving us a visit each and every Medieval Romance Monday. Who knows, maybe you'll fall in love with a new favorite medieval romance author!
The drawbridge is lowered and the portcullis raised. Everyone is invited to enter the magical world of Medieval Romances!
Super sale on A Knight of Honor at OmniLit.com
Save 50% through November 9, 2011
A great medieval romance novel with a modern flair.  Tons of action, fun characters and a compelling romance make this an enjoyable fall read.
Winner of the Holt Medallion award for Best Medieval Novel!
Champion of the Heart is now available at the Diesel eBookStore.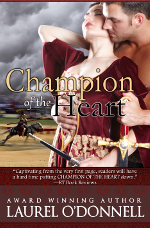 Champion of the Heart is now available at the Diesel eBookStore.  If you like medieval books with knights, tournaments, haunted castles and a passionate love affair, then give Champion of the Heart a try.